Home
Tool Hire in Bristol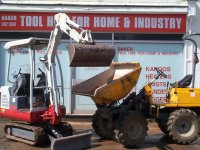 Welcome to Our Website
Looking for high quality tool hire in Bristol? If you are requiring professional plant hire in Bath then call upon the services of Ladder Hire Ltd for expert equipment to utilise in your projects. We offer an extensive range at very reasonable rates for residential, commercial and industrial use, for eclectic multi purpose products that promote self development in the construction industry from minor to more complex installations.
Access Equipment in Bristol
Whether you are searching for digger hire in Bath or ladder hire in Bristol the competent staff at Ladder Hire Ltd can assist you in finding the correct device for your needs. Our services are as follows:
Mini digger hire
Excavation equipment
Lifting equipment
Ladders
Tools
Access equipment
Floor sanding
Gardening equipment
Gardening Tools in Bristol
Literally anyone can benefit from our products, whether you are investing in landscaping design and wish to revamp your communal areas or carry out small building jobs through to a full site, there is something for everyone. We own two branches based in Bristol, offering variety at affordable rates.
Call Now for all Aspects of Ladder and Tool Hire in Bristol
So, if you are interested in our services and would like more information on them, please do not hesitate to get in touch. You can reach us on the number here on this webpage. Visit our main site by clicking on the external link, or alternatively, email us using the online query form in the Contact Us section. Choose Ladder Hire Ltd as your premium provider of tool hire in Bristol.